We're excited to announce a suite of new product enhancements as part of the LightForce 2.5 launch.
These innovations empower you to optimize your practice by combining your expertise with our technology in order to get high quality results and increase the happiness of your practice, team, and patients.
LightForce 2.5 would not be possible without LightForce's community of orthodontists whose feedback and input has been the catalyst for these enhancements.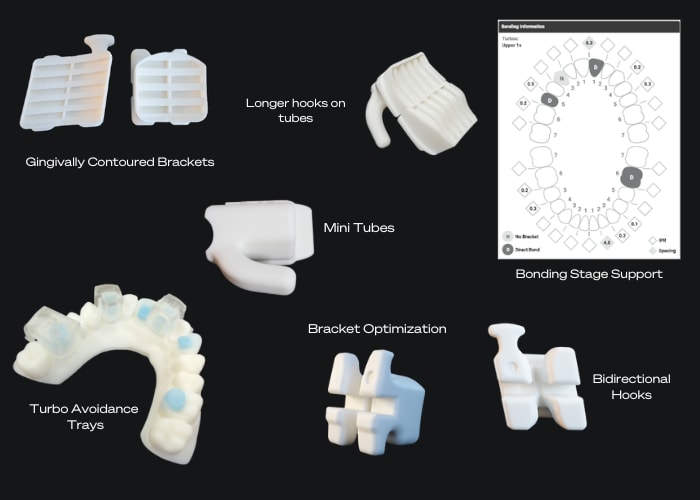 Mini Tubes
The new mini tubes enable indirect bonding of tubes on smaller or under-erupted molars, eliminating the use of stock mini tubes. This means doctors can now use LightForce to treat a wider range of patients and can delegate bonding of tubes which can increase accuracy and save doctors time.
Gingival contoured brackets
With our new gingival contoured brackets, doctors are able to place the archplane more gingivally, minimizing occlusal contact and reducing the need for bite turbos for some patients. The new gingival contoured brackets provide doctors with a wider variety of treatment options.
Bi-directional hooks for all brackets
Bi-directional hooks enable appliances to be added to every tooth in the mouth and allow bands to be positioned in either direction, providing doctors with greater flexibility in their treatment plans to achieve their desired results.
Bonding Stage LightPlan Support
Bonding information can now be accessed at a glance with the new tooth information section of LightPlan and on the packing sheet provided with the box. This sheet shows which teeth need to be direct bonded, IPR, and turbo information.This new bonding stage support will provide doctors, clinical assistants, and dental hygienists the ability to know exactly what needs to be done for each patient on bonding day.
Turbo avoidance rebond trays
Rebond trays now account for turbos, removing the need to manually cut the rebond trays when rebonding teeth with turbos. This saves doctors, clinical staff, and patients time.
Bracket improvements:
Ligation improvements
Increased rounding of tie-wing edges reduces the likelihood that elastics will tear. The ligation improvements make ligation easier and increase ligation options.
Improved Breakaway Base
The breakaway base improvement decreases the depth and strengthens the breakaway base feature.


Improved Bracket Trenches
Our improved bracket base design increases bond strength. Fewer debonds will lead to a decrease in emergency appointments for rebonding.


Longer Hooks on Tubes
Longer hooks enable multiple attachments to be applied on a hook (steel ties and bands).


New Customer Education Resource: LF Academy
In addition to these product innovations, we're also excited to announce a revamped LF Academy. With this new update, doctors, clinical assistants, and treatment coordinators can access a variety of helpful educational tools and learning modules.
Content includes:
How to get started with LightForce
Indirect bonding support
Marketing and treatment coordinator resources
Clinical support videos
…and much more
You can access LF Academy by visiting https://academy.lightforceortho.com/ and logging in using your doctor portal credentials.If you have any questions, reach out to customer support at support@lightforceortho.com.
Return to the blog